Dental Implants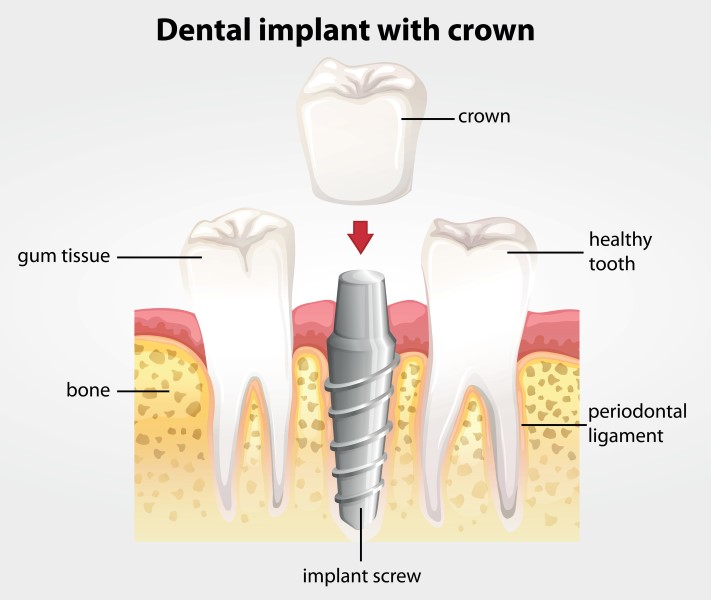 Dental implants are the vogue of the day to effectively and efficiently replace missing teeth. They provide a fixed solution to having removable partial or complete dentures. The teeth attached to implants are very natural looking and often enhance or restore a patient's smile!

There are biocompatible posts (screws), which can replace the roots of teeth and are made of titanium coated with plasma. They are surgically placed in the upper or lower jaw and they function as an anchor for replacement teeth. The greatest advancement in dentistry in the last 40 years is the development and usage of dental implants.

Dental implants are a far superior alternative to other forms of teeth replacement. Implants are very strong, stable and durable typically last many years.

Dental implants are used to replace one or more missing teeth. They do not affect adjacent teeth. They reestablish vital functions like chewing and speech, restore facial fullness and prevent teeth from shifting. Last and most importantly they bring back patient's smiles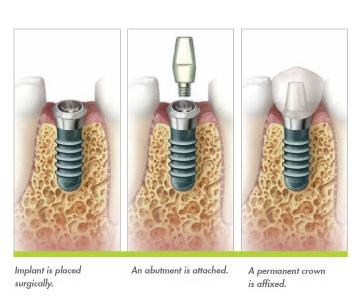 There are generally four phases to getting an implant restored which involves multiple visits over several months:
Diagnostic models, radiographs and CT scans are done to evaluate the bone, gum tissue and space available for an implant.
The dentist or an oral surgeon preps and numbs the area and the implant is surgically placed into the jawbone and allowed to heal and integrate itself into the bone for up to six months. During this waiting period patient is recommend a soft diet, cold foods and warm soup during the healing process.
The bone around the implant heals and unifies with the implant surface in a process called Osseointegration. The implants are held in place secondary to the growth of bone around it and into its surface. Some patients might need to wait until the implant is completely integrated, (which can take up to several months), before replacement teeth can be attached to the implant. Other patients can have the implants and replacement teeth placed all in one visit.
After several weeks of healing an artificial tooth or crown is custom designed and is made for that implant post based on the size, shape, position, color and fit of the missing tooth. The crown is securely attached to the implant, providing excellent stability and comfort to the patient. If you are replacing more than a single tooth, custom-made bridges or dentures will be made to fit your mouth and your implants.
Good oral hygiene, eating habits and regular dental visits will aid in the life of the implant. Diabetes and tobacco use may interfere with healing after surgery.